Attic

Ladder Installation Greater Sydney, Illawarra & the South Coast.
Situated in the beautiful town of Wollongong, servicing areas from Greater Sydney, Illawara & South Coast regions.
I have helped my clients free their homes from clutter and provided easy access to their roofing area. I am fully licensed and insured, with over 30 years' experience in carpentry.
I guarantee low overheads meaning better prices for my clients, without a compromise on quality. As a small business owner, I aim for customer satisfaction with pride in the work I complete. I will be the only person you communicate with from the start of the project until the end.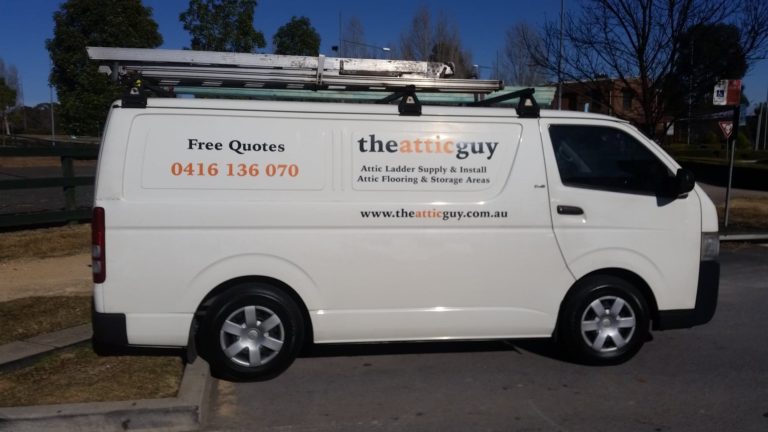 Attic Ladder installation and supply service for Greater Sydney, Illawarra and the South Coast.
Roof storage is a great way to free your home from clutter and create extra storage space.
"We had Jeremy 'The Attic Guy' respond quickly for a quote and found his prices to be better than one of the other major attic ladder companies. A mutually convenient time was booked for installation and with a some assistance of Jeremy we were able to select the appropriate ladder for our house. His installation of both the ladder and flooring was of an extremely high quality and having arrived early he worked all day to install the ladder and flooring in our house. I like to review any feedback that is posted online to see what people say and obviously that posted will usually only be positive however I rarely provide such feedback but in fact I contacted Jeremy to see if I could offer some feedback knowing how hard he had worked and his good communication skills.

We will be definitely recommending him to our friends and anyone that is considering installing an attic ladder and flooring and converting wasted space to a useful area. For the investment of the installation, the convenience and increased value of your house, it is certainly worth it. When considering installing I also wanted to support a smaller business and found him both professional and reasonable in all my dealings with him."
"I could only find a couple of numbers in the yellow pages for loft ladders. One didn't answer and the other never returned my call after I left a message. I found 'The Attic Guy' on the web after searching for 'attic ladders wollongong'. Jeremy not only answered my call but came and gave me a quote when he said he would and then turned up to do the job when he said he would. T hroughout he was friendly and professional and we are very happy with the result for what seemed to me to be a very reasonable price. Highly recommended tradesman. Thanks again Jeremy."
"We were extremely impressed with Jeremy. We got a few quotes, and Jeremy was the most reasonable. He was very professional, did the job in one day, and did a great job of it. We now love having the extra storage space, it was definitely worth the investment. I can highly recommend the Attic Guy."
"Just a quick note to say thanks again for the quick and professional installation of our Attic Ladder and flooring.

We are very happy with the end product and the quick service you provided in coming to quote, layout and installation and no mess left behind. We now have more space to store things properly and a clean and tidy storage area. Thanks again and all the best for your business. I will certainly refer anyone that tells me they need more space to The Attic Guy."
"My wife and I decided to utilise the space inside our roof for storage and contacted Jeremy from "The Attic Guy". Jeremy was prompt and worked efficiently to get the job done quick. His quality of work was exceptional, as was his positive and friendly attitude, and to finish it off he cleaned up all his mess including vacuuming.

It's great to have so much additional storage for all our "stuff", with the comfort that our attic was installed properly and to Australian building standards. I highly recommend Jeremy for his quality of workmanship, fair pricing and friendly attitude."
Get in touch with me today!